Understanding how Accumulation Conveyor helps expedite your distribution process
Accumulation Conveyors can be used when trying to buffer products down the conveyor line before going through the sortation conveyor. This conveyor can merge product lines or collect them at the end of the conveyor line where operators can palletize or pack them quickly for shipping. Knowing the right type of accumulation conveyor to use plays a vital role in how efficiently your conveyor system will handle your product flow.
What is an accumulation conveyor?
An accumulation conveyor is a type of conveyor system used in various industries to transport and accumulate items or products. It is designed to temporarily stop, hold, and release items at specific points along the conveyor line, allowing for efficient production processes.
How do they operate:
Accumulating conveyors are driven by a chain or a small belt but can also be driven by a 24v roller. The 24v style accumulation systems the drive roller turns on and off to stop a single case in a zone. Accumulation conveyor belts can be zero contact or zone-to-zone contact.
With both options, the sensors look upstream of the zone control. If a product is in this zone, the current zone cannot move ahead. The drive apparatus drops out and allows the case to stay in the zone, while still allowing the rest conveyor behind it to run. This conveyor allows the process to move downstream to accept the product on the conveyor and move the cases forward.
What can an Accumulation Conveyor handle?
With our Accumulation Conveyor products, the cartons are singled out by raising and lowering the physical stop and implementing a brake to hold back the accumulated product. With the accumulation conveyor, we use a zero-pressure conveyor. It is useful when designing a conveyor system to ensure you get the maximum use out of your conveyor line system. Photo-eye technology software uses standard buffers to control spurs with a zero-pressure accumulation conveyor.
The conveyor can use in a fixed zone allocation mode. The zone mode takes one zone and assigns one product to that zone; this zone must be longer than the product conveyed. A dynamic zone mode that can be designed based on the average zone length uses the conveyor's zone length then allocates an actual number of zones based on the product's overall size.
For example, if the conveyor has 24-inch zones, a 21-inch box will be assigned one zone, or 24 inches, while a 36-inch box will be between two zones or 48 inches. Cartons are transported or released, a gap equal to the length of one base zone is created between the cartons, regardless of the carton length. Upon release, the zero-pressure accumulation conveyor can either slug or single out boxes within the zones.
Accumulation Tables
Accumulation conveyor tables can be used for line accumulation and regulation of bulk materials over belt conveyors where it is necessary to improve the uniformity of flow and reduce belt wear.
In modern plants, these tables are often used in single-file in several levels, in this case, they are often called product accumulation belt conveyor. The single-file arrangement is used for suspending all particles during transport. This allows the table to be self-clearing so that there is no need for a ballute or similar.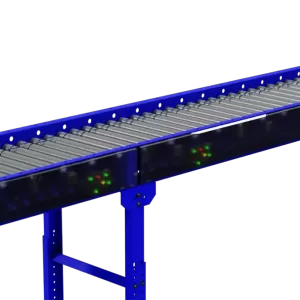 Slug Mode vs. Single Mode:
Slug mode versus single mode can be described by the difference between a stoplight and a stop sign: slug mode releases all the boxes at once (stoplight), while single-mode releases cartons one by one (stop sign). Slug mode is typically used in high-speed merges or high-speed applications, while singulation mode is used in lower-speed applications or at the end of line operators.
The Zero-Pressure conveyor, while very useful and cost-efficient, can be used with a wide variety of sizes of boxes and a variety of weights. In this conveyor system, the boxes will not come into contact with each other, and because our braking system lightens the chance that a carton will be damaged during the shipping or manufacturing process. 
How to Utilize this Conveyor for your business:
The Accumulation Conveyor has very similar traits as a live roller conveyor. The difference between the two is simple; the accumulation conveyor differs because it can minimize and remove drive pressure. The little difference helps the accumulation conveyor to accumulate the cartons in a safe and controlled manner. The Accumulation of conveyed materials is helpful when cartons are fed into other stages in a handling pipeline including, but not limited to 
Loading

Sorting

Palletizing

Staging
For the conveyor module to be the most efficient, one must understand the abilities, its minimum pressure counterpart the zero pressure conveyors are implemented when accumulation is required when products don't need to touch each other or come in contact with one another. This provides a solution for products of a fragile nature or to keep products from risking cross-contamination. 
How does this work?
It works when sensors activate components within the conveyor system that eliminates the driving pressure in buffer zone sections. The conveyor streamlines the process, by stopping and starting in the accumulation zone before being sent to the sortation to be shipped to the consumer.
At Russell Conveyor our accumulation conveyor uses the Motor-Driven Roller technology built into the conveyor product cutting energy costs, reducing noise, decreasing line pressure build-up, and eliminating high repair maintenance costs associated with other traditional conveyor systems.